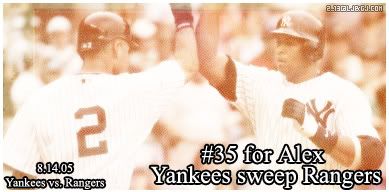 Not even Mother Nature could stop the Yankees. Prior to the first of two rain delays, Hideki Matsui's three-run homer in the fifth inning reclaimed the lead for New York. When the one-hour, six-minute delay ended, A-Rod hit his 35th homer -- a two-run shot in the sixth -- to put the game out of reach. click for more

FINAL SCORES: Yankees- 10 Rangers- 3

First sweep series since the All-Star Break and it feel great. Now if only flippin' Boston could have gone for one more inning we'd be at least at 4 games behind, oh well. Tomorrow starts the day of a two series road trip, Monday, Tuesday & Wednesday @ Tampa Bay, Thursday off, then Friday. Saturday & Sunday @ Chicago. Wright will be pitching for us tomorrow, lets see how that goes.

Random here but has anyone gotten Derek's shoes Six4Three? I wanted to get some today but they looked too "guy-ish" for me =/ He should really make some woman's shoes *nods* lol.

I'm gonna post some random icons maybe tomorrow that I made =D.