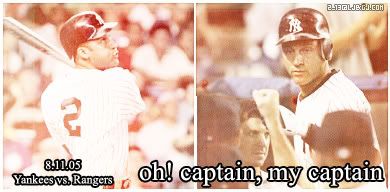 Derek Jeter took matters into his own hands, hitting a solo home run to answer a Texas rally in the seventh, propelling the Yankees to victory in the series opener. Scott Proctor impressed in his first Major League start, while Mariano Rivera closed out the win with a big four-out save. "We're just trying to win games," Jeter said. "It doesn't make a difference how you do it."

I didn't catch the game, damn me for living on the West. But Jeter FINALLY came through for the team with the winning homer =D

Side note Derek's "girlfriend" said on TRL that "Yes I have a Yankee boyfriend! sorry!" *rolls eyes* *cough*gogetrunover*cough* hehe.

Please tell your friends about the community, thanks.