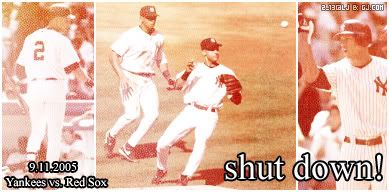 NEW YORK -- If the Yankees had any hopes of catching the Red Sox in the American League East, then Sunday's rubber match was a must-win game for the Bronx Bombers. Randy Johnson came up big when the Yankees needed him the most, as the five-time Cy Young winner held the Red Sox to one hit over seven innings, leading New York to a 1-0 win over Boston. Johnson struck out eight while walking two, as the left-hander faced just two batters over the minimum during his outing. Jason Giambi provided the only run of the game, hitting a solo homer against Tim Wakefield in the first inning.

FINAL SCORE- Yankees-1 Boston-0
We are now 3 games behind the AL East & 1 game behind on the Wild Card with 20 games left to play.

Talk about neglecting, I'm sorry for neglecting this for so long I suck. But I've dropped by to a) post icons and b) take a few requests. The icons I'm gonna post are a collection of a bunch of icons I've done over time so here they are:


RULES :
- Comment on which numbers you used. Makes it easier
- NOT bases, so don't add your username or any other stuff on them.
- CREDIT myscars_@lj.com or myscars_@2_13

X-posted @- 4AM_ICONS @LJ.COM.

1.

2.

3.

4.

5.

6.

7..

8.
9.
10.

11.

12.

13.

14.

15.
16.

17.

18.





Ok on to the request read the rules on how to request please =D


I have nothing better to do with my life than make icons and stuff so I'll be making either TWO Icons or ONE Friends Only Banner. If you wish too look at what I can do you can go to my journal and check out my layout and my icons and such. Also the icons I posted above the last few were made around Nov. of last year that's why they look so different from the rest.

1. Who do you want me to use? Alex, Derek, Both or another Yankee
2. What do you want? Icon [1 or 2] or FO Banner ONLY!
3. Any specific picture[s] you would like me to use? If you say "any" then I'll find w/e I can find and use that
4. If you asked for specific pictures please add the URL here
5. For a FO banner how big do you want it? example "400x200" For the icon how big? "100x100"
6. Any specific text, font, or color you want me to use?

Be aware that I'm in school right now so a few request will take about a day or two to make. I want to post all of them all at once so there might be a delay.

Please don't be afraid to interact around, post questions or w/e. You can post too, not lonly me =D.

9.11 we will always remember